Great news about Source Code. At long last, the recognition of an amazing job.
Whatever
Of all people in the world, I think I'm allowed to use the official SFWA press release for this directly: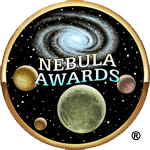 The Science Fiction and Fantasy Writers of America is proud to announce the nominees for the 2011 Nebula Awards (presented 2012), the nominees for the Ray Bradbury Award for Outstanding Dramatic Presentation, and the nominees for the Andre Norton Award for Young Adult Science Fiction and Fantasy Book.
Novel
AmongOthers, Jo Walton (Tor)
Embassytown, China Miéville (Macmillan UK; Del Rey; Subterranean Press)
Firebird, Jack McDevitt (Ace Books)
God'sWar, Kameron Hurley (Night Shade Books)
Mechanique:ATale oftheCircusTresaulti, Genevieve Valentine (Prime Books)
TheKingdomof Gods, N.K. Jemisin (Orbit US; Orbit UK)
Novella
"Kiss Me Twice," Mary Robinette Kowal (Asimov'sScience Fiction, June 2011)
"Silently and Very Fast," Catherynne M. Valente (WFSA Press; ClarkesworldMagazine, October 2011)
View original post 562 more words